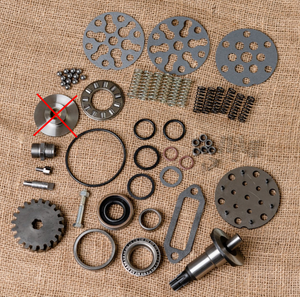 Premium hydraulic pump repair kit, suitable for a round piston-style pump with a tapered roller bearing (not a standard roller bearing). 
Kit includes: 
O-Ring for perimeter of pump
Two o-rings for mounting the pump
Pump shaft seal
Needle bearing
Tapered roller bearing with race
Speedometer gasket
Hydraulic pump gasket
Proof meter drive bushing, bolt and adapter
Gear
Wobble shaft
Wobble plate--no longer included
Roller 
Three base gaskets
Jack screw for removal of race
Pump plug
Set of six seats
Springs for plate and pistons, when available
Set of twelve pump balls
Doweled plate for front of pump
If you plan to remove and install seats into your pump, you'll need to purchase the installation and removal tools separately. 
Piston pumps are found on Ford tractors made in 1953 through 1964 with four cylinder gas or diesel engines, like the NAA, 501, 600, 601, 700, 701, 800, 801, 900, 901, 2000 (4 cylinder), 4000 (4 cylinder). However, some of these tractors could have a standard roller bearing piston pump, if so, you'll need to update your housing, see part number GR2263.
Will service either NCA600C or NCA 600F pump. 
Please note: Due to part availability, the current contents of this kit is different than the contents shown in our instructional repair video. Please rely on the photo and list in this product description for current accuracy. Contents updated 2/15/2023.