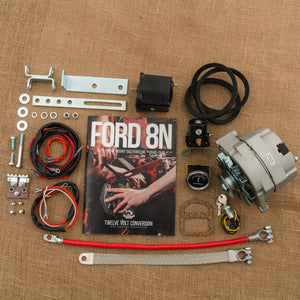 Twelve volt conversion kit for Ford 8N with front mount distributor, model years 1948-1949. 
Includes: wiring harness, two battery cables, alternator, bracket for alternator, resistor assembly, key switch, gauge, solenoid, coil with gasket, belt and detailed written instructions with wiring diagram. 
Contents and photo updated 3/23/22
Note: Ground cable may be braided tinned style as shown or may be black 2 gauge cable.