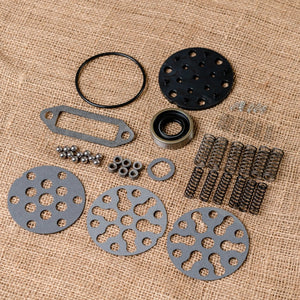 Ford piston pump repair kit (round pump, 1953-1964).
Services 1953 thru 1964 four cylinder gas or diesel tractors with piston type pump. Tractors: NAA, 501, 600, 601, 700, 701, 800, 801, 900, 901, 2000 (4 cylinder), 4000 (4 cylinder). Will service either NCA600C or NCA 600F pump. Replaces CCPN600A & CCPN600B.
Please note: the smallest tapered springs that go onto the dowels of the plate are no longer included in this kit. We're working with our supplier to get these added back in, but for now they are excluded.