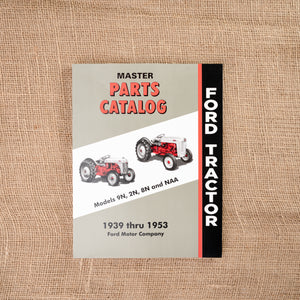 Re-print of original Ford tractor master parts catalog manual. 

This book includes part numbers for Ford tractors made between 1939 and 1953 (Ford 8N, 9N, 2N and NAA). It pertains to the following topics: driver's seat, hydraulic lift, hydraulic pump, power take-off, wheels, hubs, rims, brakes, front axle, steering gear, rear axle, muffler, engine, oil filter, transmission, clutch, radiator, fuel system, generator, battery, starter and drive, distributor, ignition coil, magneto, lamps and wiring, running boards and fenders, hood, proofmeter, governor, standard parts, accessories and kits.
216 pages, measures 8 1/2" x 11".