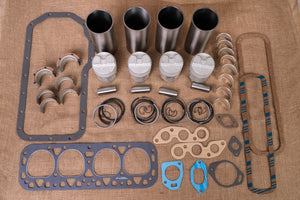 Sleeves and Pistons are sold out, with no estimated restock date. 
In-frame overhaul kit, 4" overbore for the Farmall C248 4-cylinder gas engine (Farmall M, W-6, O-6, OS-6, MV and T-6).
Includes the following: 
Sleeve and piston kit
Head gasket set
Oil Pan Gasket
Rod Bearings
Main Bearings
Please measure your journal and decide which size rod bearings and main bearings you need before ordering. If you need help with this process, please watch our informative YouTube video.