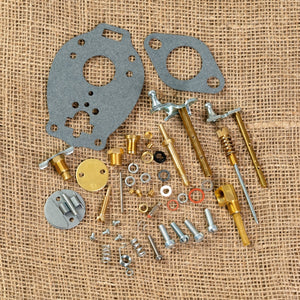 Gaskets, needle, seat, throttle shaft/screws/door, choke shaft/screws/spring/door, fuel and air adjusting screws and jets, fuel elbow with spring, etc. for Marvel Schebler carburetors: 
TSX33, TSX241A, TSX241B, TSX241C, TSX420
These carburetors are found on Ford 8N, 9N and 2N tractors. 
Please read the ID tag on your carburetor before ordering to ensure proper fit.