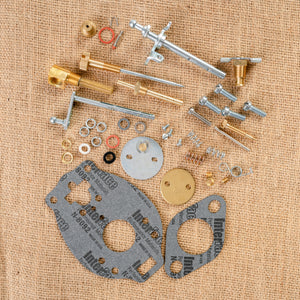 This carburetor kit includes gaskets, needle, seat, throttle and choke shaft, throttle and choke butterflies, fuel elbow with screen, choke shaft spring, fuel and air adjusting screws and jets. 
Fits the following Marvel Schebler carburetor: TSX577
These carburetors are found on Ford 600 or 700 tractors. 
Please read the ID number on your carburetor before ordering parts to ensure proper fit.