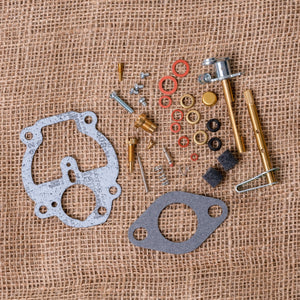 Complete Carburetor Kit for Allis Chalmers tractors with Zenith #s: 8979, often found on Allis Chalmers WF and WC tractors.
This kit includes gaskets, needle, seat, throttle shaft, choke shaft, fuel and air adjusting screws and jets.
Please note: Some Allis Chalmers tractors were equipped with a Marvel Schebler carburetor. Please verify the numbers and brand on your carburetor before ordering parts to ensure a proper kit is ordered.