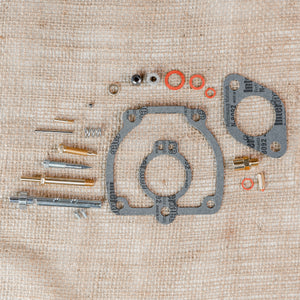 Complete Carburetor Kit for International carburetor numbers 356948R91, 356948R92 & 357231R92.
This complete kit includes gaskets, needle and seat, throttle shaft, fuel and air adjusting screws and jets. 
These carburetors are often found on Farmall Super M and Super MTA tractors (although some M models may have this carburetor if a mechanic was trying to get more fuel into their engine, this is why we always recommend double-checking the ID numbers on the carburetors instead of choosing solely based off of the tractor model).