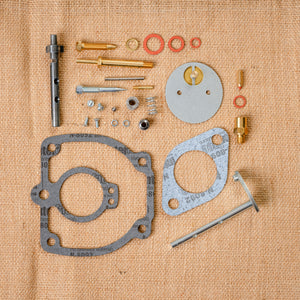 Complete carburetor kit for International Carburetors.  This kit includes gaskets, needle, seat, throttle shaft, choke shaft, packing, emulsion tube, idle speed screw, float pin and more as pictured. 
Fits the following International carburetor numbers:  47387DB w/ 8557DX Throttle Body & 50983DB w/ 8557DX Throttle Body and 3.314" throttle shaft. 
These carburetors are often found on Farmall M, MV, Super M, Super MTA, Super W-4, W-6, W-9, WR-9, 600, 650.