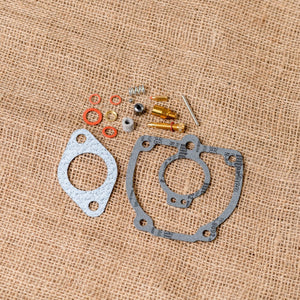 Economy carburetor kit for International Carburetors.  This kit includes gaskets, needle and seat. 
Fits the following International carburetor numbers: 47387DB, 50983DB, 52814D, 52815D, 60329DA, 356948R91, 356948R92, 357231R92, 358065R91, 358554R91, 534932R91.
These carburetors are often found on Farmall M, MV, Super M, Super MTA, Super W-4, W-6, W-9, WR-9, 600, 650.