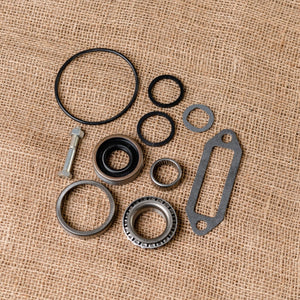 Basic hydraulic pump repair kit, suitable for a round piston-style pump with a tapered roller bearing (not a standard roller bearing). 
Kit includes: 
O-Ring
Two D-rings
Pump shaft seal
Needle bearing
Tapered roller bearing with race
Speedometer gasket
Hydraulic pump gasket
Jack screw for removal of old race
You do not need to purchase specialized tools to install this kit into your hydraulic pump. This is the kit most frequently used in our shop. 
Piston pumps are found on Ford tractors made in 1953 through 1964 with four cylinder gas or diesel engines, like the NAA, 501, 600, 601, 700, 701, 800, 801, 900, 901, 2000, 4000. However, some of these tractors could have a standard roller bearing piston pump or a square vein pump--if so, this kit will not be suitable. 
Will service either NCA600C or NCA 600F pump.