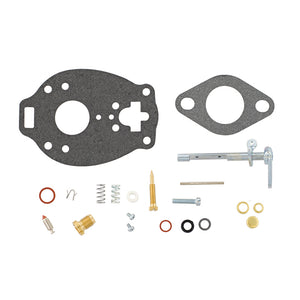 Basic carburetor kit for Marvel Schebler carburetor numbers TSX13, TSX45, TSX60, TSX85, TSX89, TSX90, TSX91, TSX114, TSX212, TSX253, TSX597, TSX650, TSX663, TSX714, TSX804, TSX937, TSX957. 
These carburetors are often found on Case VA, VAC, VAI, VAH, VAE, VAO, VAS tractors, as well as John Deere L, LA and LI and Minneapolis Moline 335 tractors. 
Please read the ID number on your carburetor before ordering parts to ensure proper fitment.